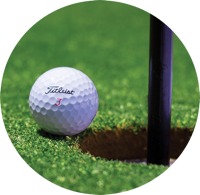 (970) 453-9104
200 Clubhouse Dr.
Breckenridge, CO 80424
If you are looking for a golf course set in a beautiful mountain scenery look no further. Breckenridge Golf Club, located just on the North side of the town, is a 27-hole golf course. The golf course sits at elevation of a little above 9,000 feet and was ranked #25 in the nation by Golfweek magazine.
There are another three golf courses in close proximity. Keystone Resort is home to two 18-hole golf courses. Raven Golf Club at Three Peaks is located in Silverthone and offers players of all abilities a wonderful golf experience at its 18-hole golf course. Copper Mountain Golf Course features the highest tee-box in North America at elevation of 9,863 feet.
Breckenridge Welcome Center